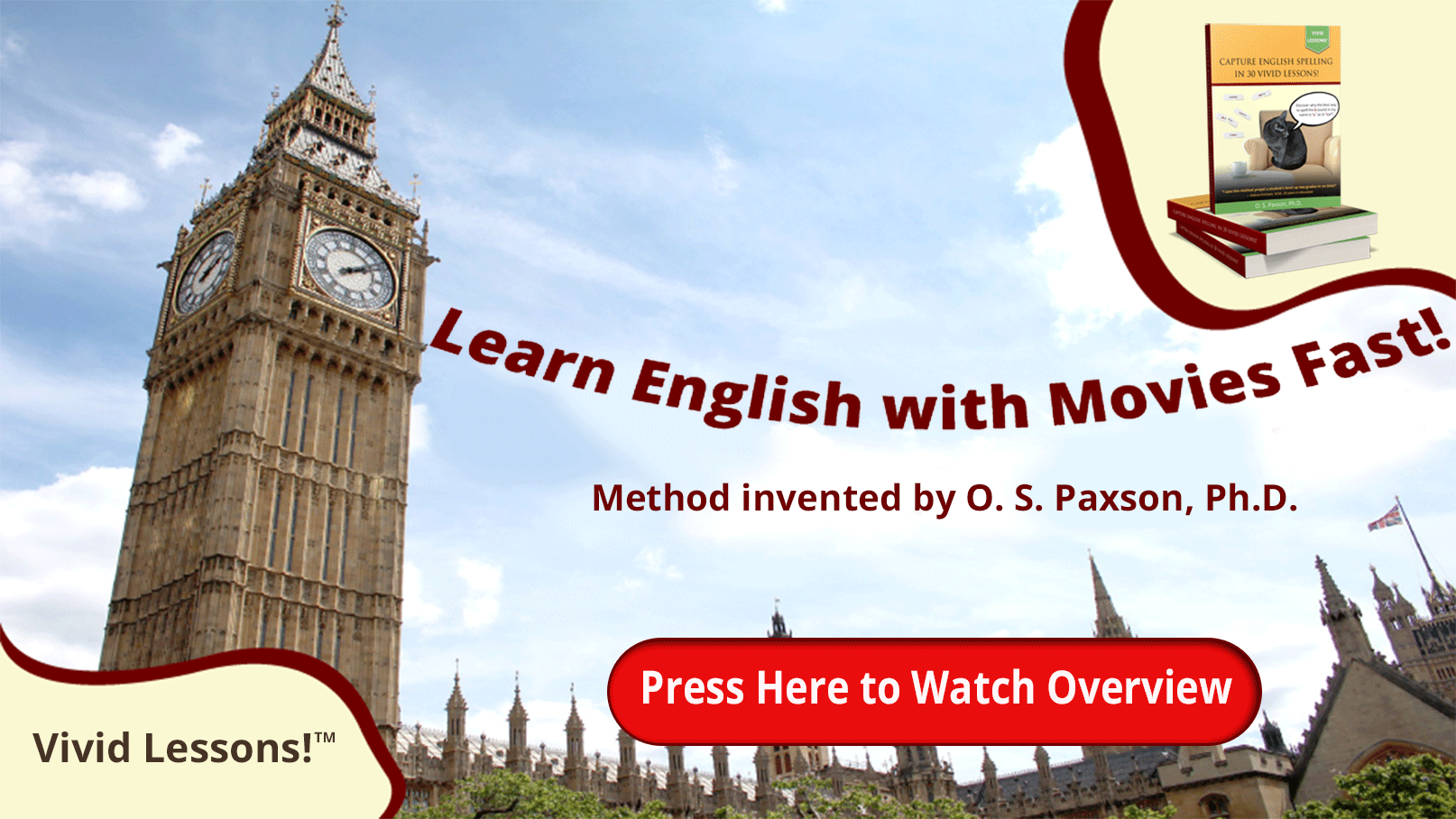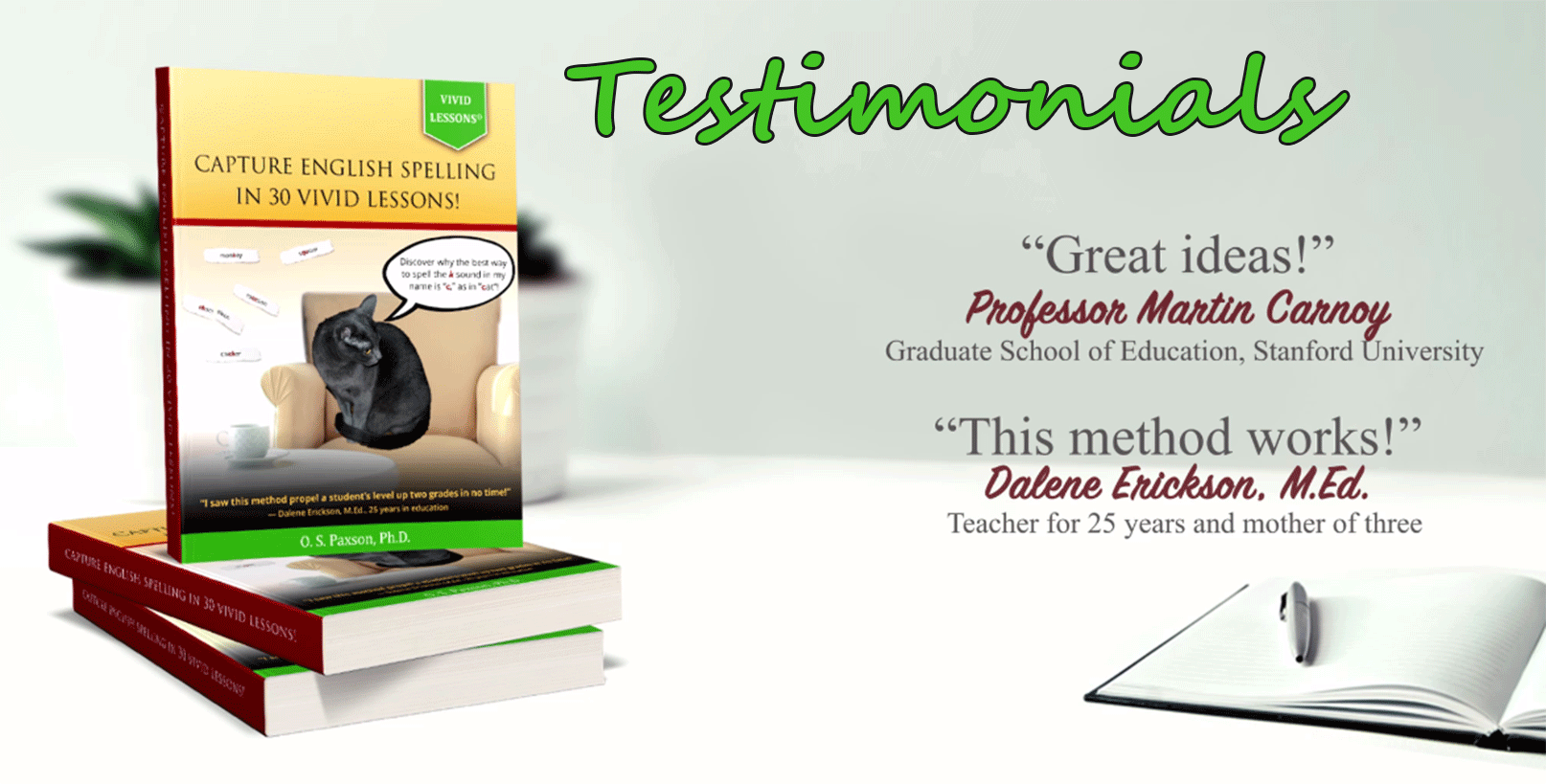 How does Dr. Paxson's method work? It is a scientifically proven method, presented in entertaining videos!
•   The course for beginners teaches the 300 most common English words easily, with movies.
•   Another course, for native English speakers and intermediate English learners, teaches how to improve English spelling, grammar and writing fast.
•   Vivid Lessons!™ I value your time.
Description:
The course represents an innovative, science-based method invented by me, O. S. Paxson, Ph.D. This method uses statistically proven frequencies (both for vocabulary and spelling) to focus on what is important.
My method systematizes English into clear patterns, then presents these patterns as vivid, easy to remember rules.
The course appeals to different areas of your brain. I employ audio, text and visual methods (even cartoons, photos and music) all at once, to enable you absorb the material with different senses. That's how we make your studying more effective.
You have already tried traditional memorization methods that did not work, haven't you? Here, the lessons are result-oriented, and there are free samples of video-lessons on the website. Do not miss out on what has helped others: spend an hour to try this method.
Learn English with movies! You will not be bored.
This course is compatible with any other methods of improving or studying English. It includes: 
•          engaging lessons;
•          word lists (with translations, for the beginner lessons) to practice;
•          a short video describing a unique history of how this method was invented;
•          a scientific description of the method, with supporting academic references and analysis (an excerpt from my book, in English); and
•          a 30-day money-back guarantee.
Let's reach your goal of improving your English skills together.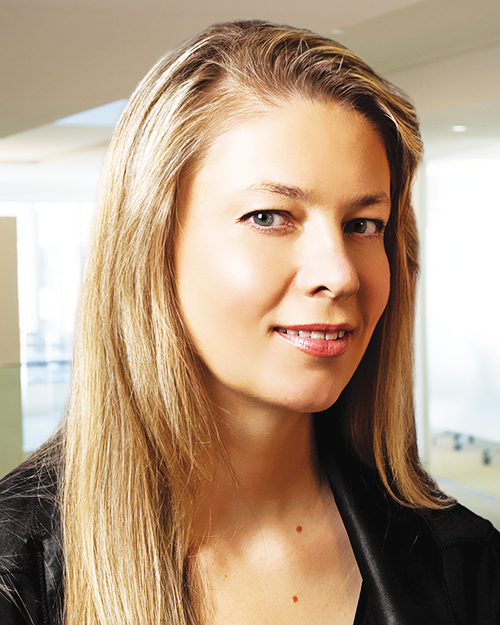 About Dr. Paxson
O. S. Paxson, LL.M., Ph.D. is an an educator, innovator and lawyer. Her novel approaches have been incorporated into university classes and textbooks, and adopted by multinationals, start-ups and law-makers. Her ability to think creatively earned her a highest (Band 1, Chambers Global 2019) rating in the world's leading guide to lawyers and enabled a first place award from The Financial Times in innovations in knowledge and data management (2018).
Dr. Paxson speaks three languages and lives in Washington, DC, with her husband, two children and a highly literate cat (who makes her debut in the field of education on the cover of Dr. Paxson's book). 
Dr. Paxson: "My daughter asked why "chicken" is spelled with "ck" while "cat" is spelled with "c." Please watch "Author's Story" where I share how this method was invented!"